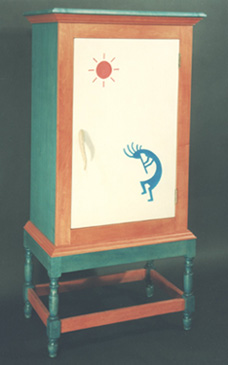 This Southwest style cabinet is extraordinarily well made. The maple is dyed to allow the grain to show, and to achieve the coral and turquoise tones. The door is deerskin stretched over a frame, and the pull is an antler.
---
To contact Erik Schjeide at Custom Wood Furnishings, please click on the following E Mail link:


Call or write:
2320 Central Ave. #E
McKinleyville CA 95519
707 839 2891
---
All photographs and pages are the property of Erik Schjeide, any copying, printing or downloading without the express written consent of Erik Schjeide is prohibited, Copyright 1999.