Thanks for "stepping through" and continuing your tour of this cherry craftsman kitchen.
Let's take a closer look at the inlays:
Please click on any image for an enlarged view: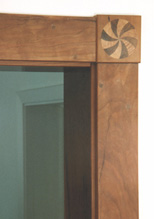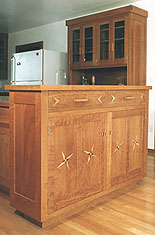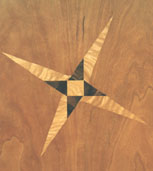 The island is "stepped" to allow a workspace of varied width.
The counters are thick solid cherry, polished to a mirror finish.
Thanks for visiting this cherry craftsman kitchen!
---
To contact Erik Schjeide at Custom Wood Furnishings, please click on the following E Mail link:


---
All photographs and pages are the property of Erik Schjeide, any copying, printing or downloading without the express written consent of Erik Schjeide is prohibited, Copyright 1999.